For Professionals
For information on joining this Estate Planning Council, please reference the "Application Form" page of this website or visit the "Contact Us" page.
---
NAEPC Journal of Estate & Tax Planning
Regular Columns and Reports​
Editor-in-Chief Note
Foreword From the NAEPC President Elect
Features​
More Harm Than Good
New RMD and QCD Planning Opportunities with Secure ACT 2.0 with Flowcharts
The 23 D's of Buy Sell Agreements
IRS Issues Proposed Regulations for the Present Value of Estate Tax Deductions, Estate Administration
Importance of Qualified Appraisals
Business Owner Transition and Charitable Planning
Evolve or Dissolve – How Charitable Organizations Address Change
How State Partnership LTCI Policies Protect Your Clients
What Does the Silicon Valley Bank Collapse Have to Do with Estate Planning?
News Nook: A Compendium of Current Affairs
NAEPC Monthly Technical Newsletter
Read the complete issue.
Subscribe Now Get notified when new issues are released.
---
Member Benefits
Members of NAEPC and affiliated local councils can take advantage of discounts on benefits, programs and services through our member benefit providers. Visit the "Member Benefits" page of this website to learn more.
---
61st Annual NAEPC
Advanced Estate Planning Strategies Conference
with Post-Conference Sessions for Council Leaders (EPC board members welcome)
October 20 - 24, 2024 - Anaheim, California
Disneyland Hotel

The conference features nationally-recognized speakers on advanced topics of interest to allied professionals and provides opportunities for attendees to cultivate multi-disciplinary relationships while collaborating on cutting edge ideas and trends. The conference educational sessions are for every member of every estate planning council and all estate planning professionals.
Learn more about the Annual NAEPC Advanced Estate Planning Strategies Conference
---
Accredited Estate Planner® Designation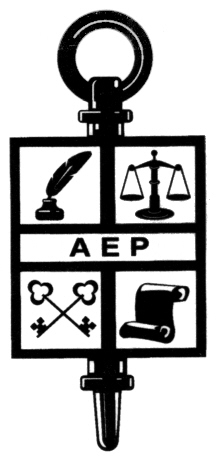 How can you gain a "leg-up" on your competition in your estate planning practice? Obtain the Accredited Estate Planner® (AEP®) designation. Professional estate planners can achieve a nationally-recognized, graduate level accreditation that acknowledges their experience and specialization in estate planning. Awarded by the National Association of Estate Planners & Councils to estate planning professionals who meet strict requirements of education, experience, knowledge, professional reputation, and character, the AEP® designation helps both clients and colleagues understand your belief in, and dedication to, the team concept of estate planning.
The designation is available to credentialed professionals actively licensed or certified as an accountant; attorney; insurance and financial planner; philanthropic advisor; or trust officer – holding one or more of the following credentials CAP®, CFA, CFP®,ChFC®, CLU®, CPA, CPWA®, CSPG, CTFA, JD, MSFS, and MST– who are devoting at least a third of one's professional time to estate planning. Eligible applicants must meet stringent qualifications at the time of application and commit to ongoing continuing education and recertification requirements.
Join the growing group of professionals who recognize the value of holding the premier estate planning professional designation. Become an Accredited Estate Planner® designee. > Learn More
---
Estate Planning Law Specialist Certification
The Estate Planning Law Specialist (EPLS) certification is available to attorneys and is administered by the Estate Law Specialist Board, Inc., an attorney-run subsidiary of the National Association of Estate Planners & Councils. Attorneys who become board-certified under this program demonstrate a high level of professionalism and commitment to the concept of specialization. This program is currently the only program, other than certain state bar association programs which are only for residents of their particular states, accredited by the American Bar Association to Board-certify attorneys as Estate Planning Law Specialists. Many states permit lawyers to hold themselves out as specialists if their certification is awarded by an ABA-accredited program. Each lawyer, however, must consult the rules in his or her own state to determine how such a certification can be presented to the public. > Learn more